And he's well versed in how to break them. His look is his statement to the world. Whether you want to help him stay on the forefront of fashion or just keep him looking sharp, these dapper accessories are sure to be a hit.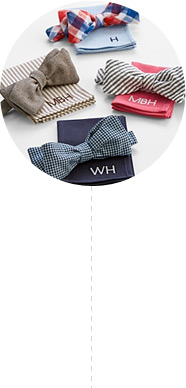 The bow tie. Long considered a throwback style, it's making a comeback in a big way. It's not just that it's a classic accessory from an era of sophistication; it's a timeless addition to any outfit. As seen on everyone from professional athletes to high-powered executives to baristas at your favorite coffee shop, the bow tie is back and it's here to stay.
Our bow ties come from ZB Savoy, a San Diego musician who became known as much for wearing bow ties while performing as he did his music. His signature look became the inspiration for a company dedicated to producing stylish and wearable bow ties for men of all walks of life. (And yes, ZB is still making music and can be found playing clubs in and around his native San Diego. If you're in town check him out and say hi—to him and his bow tie.)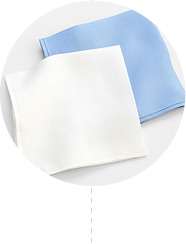 No suit is complete without a good pocket square. That little pop of color peeps out from the breast pocket to confirm to the world that care was taken in choosing his ensemble. It completes the suit and serves to elevate it to a fashionable statement. And when it coordinates with a carefully selected tie, it shows an attention to detail that makes any man a gentleman. Our pocket square sets are made from silk by ZB Savoy.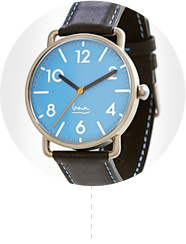 Time is money. But with watches from Projects, time is wearable architecture. Inspired by the renovations on Witherspoon Street in the heart of Princeton New Jersey, the Projects Witherspoon watch is bold in its use of color and scale. Designed by Michael Graves, the watch evokes the rich tones of the blue and rust color bricks found on the Paul Robeson Center for the Arts as well as its bold vistas of the town's center.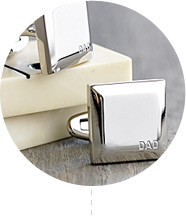 No success in life can ever compare to the success a man has in raising kids filled with love, respect and good manners. A RedEnvelope exclusive, our dad cuff links are polished to a high luster and feature "DAD" etched discretely onto the beveled squares. This design ensures that whether he's at a special occasion or in the boardroom he'll always remember who it is he really works for.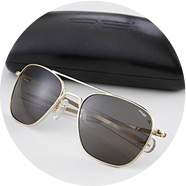 Women love a man in uniform. And no uniform has become as iconic as aviator sunglasses. Our aviator sunglasses are made by Randolph Engineering and have been standard issue for the U.S. military since 1982. Made in the USA, they surpass rigid military spec standards for quality and performance and are the eyewear of choice for pilots, the fashion-conscious and all who demand looking their best.